Account

Team

Matches, Tables

Office

Community

Information
Play the best free to play
Online Footballmanager
ever! Come to fame with your own club, win the championship and become a notorious manager!
Play for free now!
Play championships in major football superpower countries and meet the top of the world in the GSSL Superleague!
Qualify for the national cup or even the World Cup and fight in stirring live matches against real human opponents
Individual staff types, transfer market, intelligent contract negotiations, realistic sponsoring, extensive training settings, vast ranking tables and huge club and player statistics
Tournaments, friendlies and challenges for daily fun!
Football clans, community actions, buddies and much more!
GOALstar is different.
Interact in fights against managers from all over the world with realtime decissions that take effect in a split of a second to archive victory!
Create your own football club
Invite friends and get a reward!
You want to surf the internet and keep a lid on the livematch of your club at the same time?
No problem! Take advantage of the GFA Notifier!
The GFA Notifier only works with Mozilla Firefox!
The Add-on bar must be activated.
For more information visit the
Game Forum
or just take a look at the
game manual
.

Free to play Online Footballmanager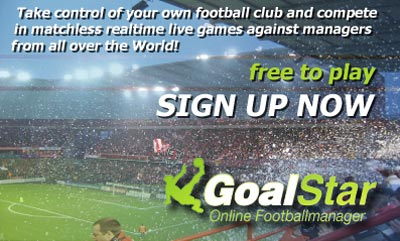 On this page you will find all winnings for the current and previous seasons:
winnings at GOALstar
GoalStar Fussballmanager
04.12.2023 00:05:




03.12.2023 23:50:




03.12.2023 23:46:




03.12.2023 23:36:




03.12.2023 23:36:



GFA News
13.07.2017 10:08:




04.11.2016 20:45:




21.07.2016 15:11:




25.05.2016 08:12:




01.11.2015 13:06:



Football Manager Screenshots

GOALstar Online Football Manager Game is the first choice for Stragetic Football Elite Gamers. No download or installation needed. A Massive Multiplayer Online Game (MMORPG) brought to you by vibytes.